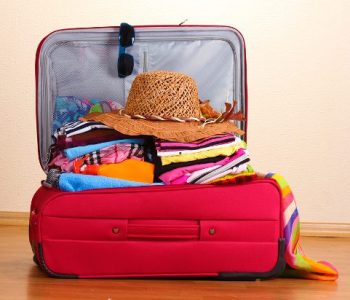 No matter whether you tend to overpack or not, the key to packing for a cruise is simply to make sure you take everything you need (and nothing you don't) on your next cruise. Here are 9 ways to pack that can make your life, and cruise, easier.
1. Pack your carry-on bags wisely
Pack a change of clothes and important medications or toiletries in the bags you will take onboard. In case your suitcases are delayed in being delivered to your ship's cabin, at least you'll have the necessities on hand and will be able to enjoy all the onboard activities right away.
2. Pack your checked luggage wisely
If you are checking in bags, don't over pack them. To save space, roll your clothes rather than fold them. Never pack valuables in your checked bags, as they could be stolen. Carry all cameras, electronic games, jewelry and prescription medicine in your carry-on.
3. Know the dress codes before boarding
Some cruisers will dress up for ship's formal nights. However, "resort casual" is now the evening dress code, with men in slacks and buttoned shirts and women in either sundresses or slacks with simple tops. Even jeans are now common in many cruise ship dining rooms.
4. Dress for your destination
Of course, some destinations are more formal than others. If traveling to Europe or Bermuda, pack "resort-casual wear." Other cruise itineraries, such as Hawaii, the Mexican Riviera, the Caribbean and French Polynesia, are more casual than the norm. Flip-flops are fine for a beach day, but bring more comfortable shoes for long days of sightseeing, hiking or biking. If you're visiting religious sites in the Middle East or some parts of Europe, be sure to bring modest clothing.
5. Mix and match your clothes
Stick with one color theme so you can re-wear bottoms with different tops. Bring shirts that can be dressed up for dinner on one night and worn sightseeing the next. The layer'd look is a good one. You'll be able to handle temperamental temperatures in the various cruise ports. Wear different accessories, like jewelry, ties, scarves to change up your look. No one will be able to tell if you wear the same outfit twice.



6. Toiletries are not always provided
There are always the basic toiletries onboard, such as soap and shampoo, but they are limited. To be safe, pack your own. Hair dryers too.
7. Don't stuff your suitcase
You will probably pick up a few souvenirs during your cruise, so you'll need room in your luggage to bring them home. Also consider packing a foldable duffle. It won't take up much space in your suitcase, and you can fill it up for the return home.
8. Stick to the basics
Bring your own alarm clock. If you're using your cell phone for this, put it in airplane mode so you don't incur roaming charges in foreign waters. Other items not provided onboard that you might want to pack are over-the-counter meds, batteries, camera memory cards, sunscreen, ear plugs, plastic bags for transporting liquids or wet things and power strips to charge all your electronics.
9. Keep all important documents with you
Always make sure you bring your necessary IDs and cruise documents with you. You'll want your photo ID and cruise ship boarding pass on hand you can get onboard if your luggage doesn't make it. Make sure you have the correct type of identification for your cruise destination. If you need visas or immunizations for your cruising region, carry those documents with you, as well.